10K Prize to be Awarded to Winner of State System Startup Challenge by PSECU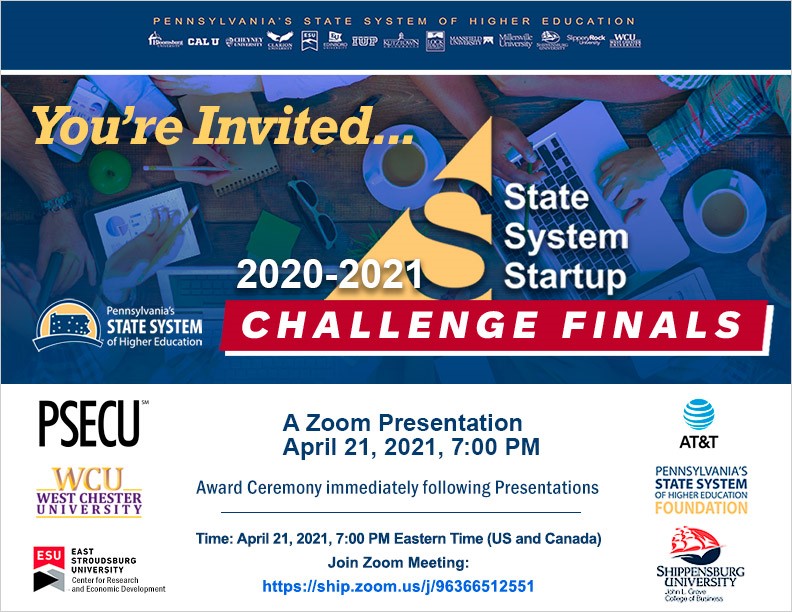 Harrisburg, PA (April 21, 2021) – Pennsylvania's anytime, anywhere digital credit union, PSECU, will sponsor the Pennsylvania's State System of Higher Education State System Startup Challenge by providing the first-place prize of $10,000 during a Zoom award ceremony today, April 21, at 7 p.m. The Challenge, now in its tenth year (previously dubbed the Business Plan Competition) is an opportunity for students attending one of the State System's 14 state-owned universities to compete for prize money that can assist them in making their dreams of becoming an entrepreneur come true.
"The students who participate in the State System Startup Challenge are innovators. They've put the education they received through Pennsylvania's State System of Higher Education to work, they've harnessed their creativity and professional drive, and they've used their collective skill sets to come up with business ideas that can have positive impacts for themselves and others around them," said Barb Bowker, PSECU Chief Member Experience Officer and Past Chair of Pennsylvania's State System of Higher Education Foundation. "PSECU's story is similar – more than 85 years ago, our 22 founders started the credit union in hopes of creating a better life for themselves and others in the community. From their innovation, and the $90 they pooled, we've grown to become Pennsylvania's largest credit union, and we're honored to continue their 'people helping people' philosophy by supporting this year's Challenge."
According to the State System Startup Challenge website, "All competitors are encouraged to use their imagination to create their best business ideas. Each university has faculty and staff who are dedicated to providing personal attention to students' ideas to prepare them for launch in today's marketplace. A team of judges reviews the submissions, and the finalists, as well as all of the competitors, are recognized at an awards ceremony."
During a Zoom gathering immediately preceding the awards ceremony, finalists – hailing from California University of Pennsylvania, Lock Haven University, Mansfield University of Pennsylvania, Shippensburg University, and West Chester University – will participate in a project presentation session. Later, during the awards event, the winner of the State System Startup Challenge will be announced and receive a $10,000 prize from PSECU.
"Leaders of Pennsylvania's economy going forward will include entrepreneurs willing to take a chance and start a business, entrepreneurs like the student finalists for this year's Startup Challenge," Pennsylvania's State System of Higher Education Chancellor Dan Greenstein said. "Events like these allow students to apply what they're learning in the classroom to real-world experiences and to prepare them for meaningful careers after graduation. I'm proud of these student finalists and wish them all the best as they compete to bring their visions to life."
Additionally, PSECU Senior Business Development Manager Michelle James is serving as a judge for this year's State System Startup Challenge.
"Talented and innovative students from across Pennsylvania have put forth many impressive entries as part of this year's State System Startup Challenge. It's not going to be easy to select a winner," James said. "I'm so excited and honored to have the opportunity to contribute to the Challenge as a judge and to be a part of the valuable experience it offers students. On behalf of PSECU, I'd like to applaud all of the Challenge's participants on their efforts and wish them the best of luck."