PSECU Gift Supports NICU Patients at Penn State Children's Hospital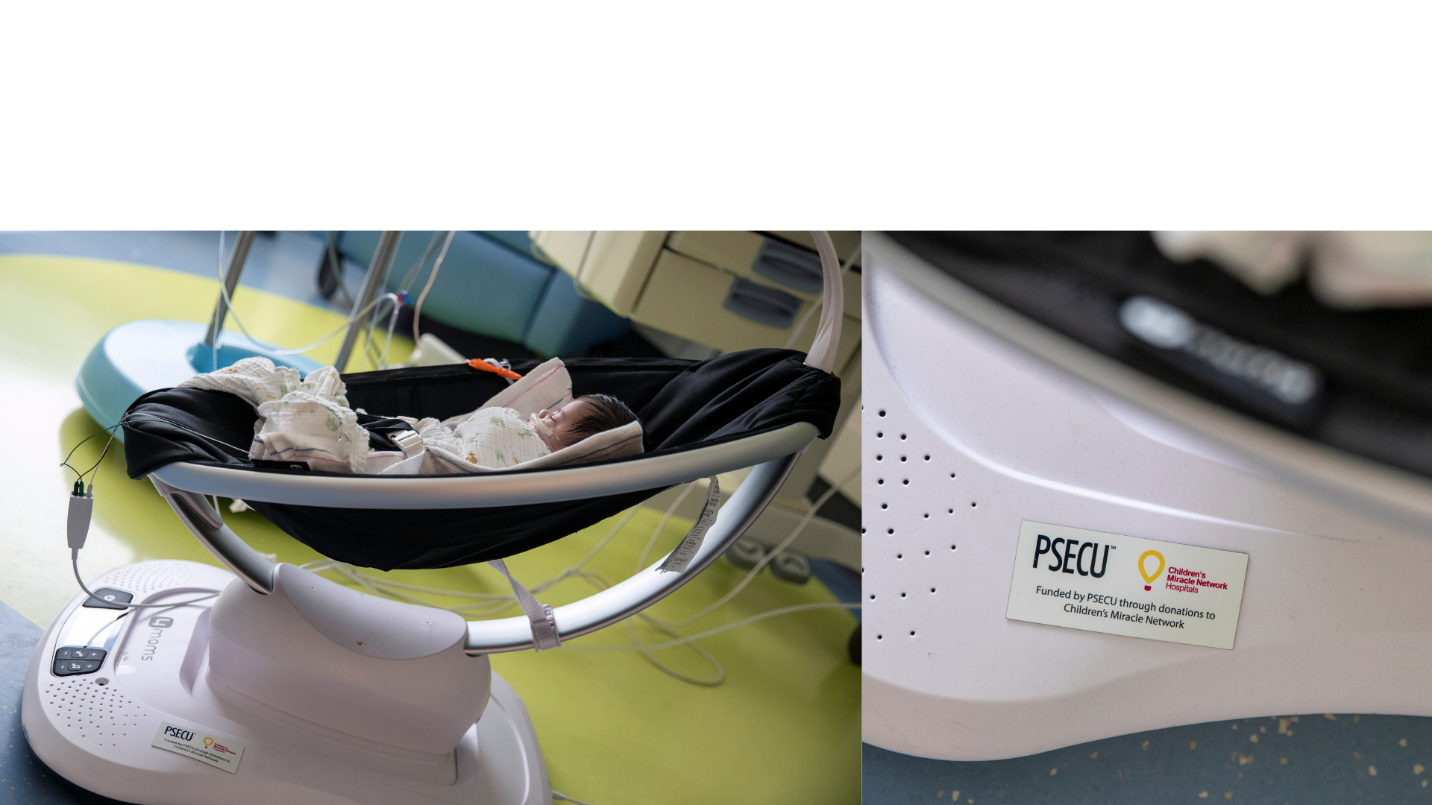 Harrisburg, PA (March 10, 2021) – To celebrate the expansion of Penn State Children's Hospital, PSECU, Pennsylvania's anytime, anywhere digital credit union, has committed $10,000 to Children's Miracle Network to purchase equipment that brings comfort to babies in the hospital's Neonatal Intensive Care Unit (NICU).
"As a not-for-profit financial cooperative, PSECU exists solely to serve its member-owners. That not only means providing them with high quality banking products and services, but also supporting the shared communities we call home," said PSECU President and CEO George Rudolph. "We're so grateful for the expansion of Penn State Children's Hospital right here in our backyard, and we wanted to make a long-lasting contribution to its success and the benefits it will offer so many families into the future. We greatly appreciate Children's Miracle Network's collaboration in helping make this meaningful gift a reality."
As a highest-level NICU (level IV), this new 56-bed unit is the first home for the babies with the greatest needs in Central Pennsylvania. The credit union's gift provided 40 mamaRoo baby swings for the NICU, which opened in November 2020 as part of the Children's Hospital's three-story expansion. mamaRoos are automated baby seats that simulate a natural rocking motion to help soothe babies and promote development.
"The mamaRoos bring comfort to our tiny patients, especially when parents are not able to be with their babies in the NICU 24/7," said Ashley Fricchione, interim NICU nurse manager at Penn State Children's Hospital. "Thanks to PSECU's generous gift, about half of the mamaRoos are already in use, and the rest will be purchased as equipment needs to be replaced. We are truly grateful."
This gift is part of PSECU's longstanding partnership with Children's Miracle Network at Penn State Children's Hospital. Over 28 years, the credit union has raised more than $250,000 to support programs, equipment, and research.
About Children's Miracle Network at Penn State Children's Hospital
Children's Miracle Network Hospitals is a non-profit organization that has affiliations with 170 children's hospitals including Penn State Children's Hospital. Gifts raised locally through Children's Miracle Network (CMN) fund equipment, patient programs, and pediatric research at Penn State Children's Hospital, which is the only children's hospital between Pittsburgh and Philadelphia fully equipped to treat the most severely ill children of central Pennsylvania. CMN's mission to save kids' lives and improve their quality of care is part of "A Greater Penn State for 21st Century Excellence," a fundraising campaign focused on three key imperatives: Open Doors, Create Transformative Experiences, and Impact the World. Learn more at greaterpennstate.psu.edu.