American Heart Association Awards Platinum Status to PSECU for Commitments to Workforce Well-Being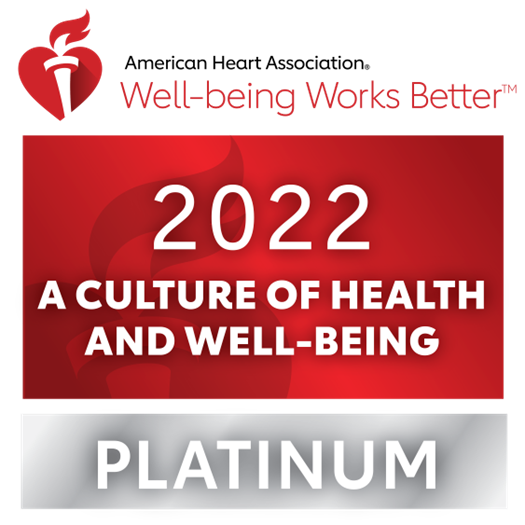 (Harrisburg, PA – April 20, 2023) —The American Heart Association has awarded PSECU national Platinum level recognition for our commitment to employee health and well-being as measured in the Association's 2022 Workforce Well-Being Scorecard™.
The scorecard evaluates factors such as mental health policies, organizational well-being strategies to address burnout, health equity measures, employee financial resources, and more to provide a comprehensive assessment of an organization's culture of health. 381 organizations nationwide completed the Scorecard in 2022, and only 9% were awarded Platinum status.
"CDC research has shown that supporting the mental and physical well-being of employees is vital to driving productivity, engagement, and successful business outcomes," Sandra Holzgen, PSECU Chief Human Resources Officer. "By investing in a culture of health in the workplace, we can improve the employee experience and strengthen our organizational reputation."
The American Heart Association developed the Workforce Well-Being Scorecard™ in collaboration with top scientists and industry experts to reflect the latest evidence-based science on workforce health and well-being. The free, web-based tool allows employers to regularly evaluate their health and well-being progress, identify areas of opportunity, and see how their results stack up against their peers.
"We are honored to be recognized by the American Heart Association for our commitment to employee health and well-being and our continued efforts to promote an exceptional employee experience," Holzgen continued. "We are dedicated to creating a culture that is safe, supportive, and provides opportunities for everyone to reach their full potential—in and out of the workplace."
For more information and a full list of recognized organizations, visit Heart.org/workforce.