You've found a fabulous vacation package that promises to save you hundreds on your next trip if you book now. But is that vacation package really a good deal?
Before you book, take some time to check out whether your vacation bundle will really give you the best bang for your buck.
Crunch the Numbers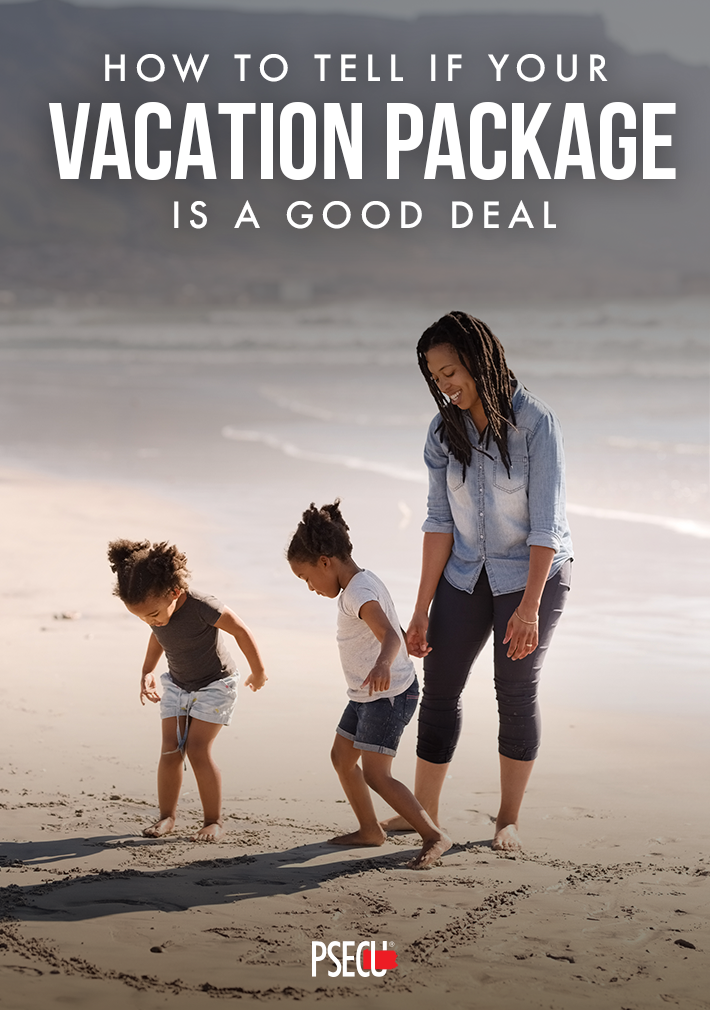 The best way to make sure you're getting the best deal on your vacation package is to do your research. While "vacation" and "research" might not seem to go hand-in-hand, price shopping can give you added peace of mind so you can sit back and relax without wondering whether you made the right decision.
Price each item in your vacation bundle individually, then run the numbers to make sure they would add up to be higher than the total of your package deal.
For example, let's say that you find a $5,000 flight and hotel package deal to fly from Philadelphia to Los Angeles. The bundle includes plane tickets for two people and a hotel stay for seven nights. To determine whether you're getting a good deal, first look up the separate cost of a flight for two on your dates of travel. Then find out how much it would cost for you to book seven nights at the hotel. If the price of separately buying plane tickets and reserving seven nights at the hotel on your own would cost more than $5,000, buying the package will save you money. If it costs less, the package may not be as good of a deal as it originally seemed.
Assess the Extras
A $3,000 deal on an all-inclusive resort and first-class flight might sound appealing, but do you really need everything that's included? Will you be eating every meal at the resort restaurant? Are you planning to attend all the included entertainment events, or are you planning to spend most of your time outside the hotel?
If your dream vacation includes lounging by the pool and enjoying relaxing evenings with a loved one, the array of extras might be worth it. If you prefer to spend your day outside of the resort, maybe it's time to evaluate whether you'd be better off booking your own economy flight and staying at a cozy, moderately priced hotel or skipping the all-inclusive option.
Look Out for Hidden Costs
Before you book your vacation and pack your bags, keep in mind that the price of your package could be only a small portion of what you'll have to pay every night.
Some resorts charge resort fees, which may cover fitness center and pool use, parking, activity fees, wireless services, and other benefits. These charges can quickly double the cost of your room rate — and you'll typically have to pay for them out of pocket.
Other fees, like airline baggage costs, can quickly add up to make what once looked like a good deal not so worthwhile. It might save you more money in the long run to ditch the deal and opt for a hotel and airline that don't charge these fees in the first place.
Scour the Reviews
Now that you've done your price checking, it's time to see what other people have had to say about your vacation package.
Visit several review sites to check on the resort— is it as nice as your vacation deal claims? Then search for the package provider itself. Have other travelers had problems with the company? Is the provider honest in their pricing and package description, or have others complained about hefty hidden fees or subpar customer service?
How to Plan for Your Vacation
Almost ready to book your fantastic vacation package? Here are some tips to keep in mind as you plan your vacation around your budget.
Learn the best times to book a vacation for the best deals.
Create your budget in a spreadsheet so you can visualize how much of your income you'll be spending. Agree to spend no more than a certain percentage of your household income.
Research the exchange rate so you can avoid taking out foreign currency that you won't need.
Consider planning a fun-filled staycation if your vacation's package deal is too far out of your budget. You can put the money you save by staying home toward next year's getaway.
Start putting your vacation money into a savings account well in advance of your trip.
A dedicated savings account — such as a PSECU savings share — can help keep you on track while planning your vacation. Use only the money in your account on your package deal, meals, and other small expenses throughout your trip.
If you're ready for the vacation of your dreams, we're here to help. Open your savings share with PSECU to start preparing for your trip, and check out our WalletWorks page for more money-saving tips.
The content provided in this publication is for informational purposes only. Nothing stated is to be construed as financial or legal advice. Some products not offered by PSECU. PSECU does not endorse any third parties, including, but not limited to, referenced individuals, companies, organizations, products, blogs, or websites. PSECU does not warrant any advice provided by third parties. PSECU does not guarantee the accuracy or completeness of the information provided by third parties. PSECU recommends that you seek the advice of a qualified financial, tax, legal, or other professional if you have questions.