There are plenty of ways to plan the wedding of your dreams without breaking the bank. There's no need to bid goodbye to that vision of walking down the aisle in a beautiful gown, or the one where you enjoy the perfect honeymoon with your spouse.
In this post, we'll explore several budget-friendly wedding reception ideas and cover savings tips for everything from the dress to the food. But before we dive into the specifics of how you can save money on various expenses, we'd like to stress the importance of saving for your wedding and honeymoon.
Savings accounts, called savings shares at PSECU, have a higher interest rate (.15%) than a checking account and can help you save more for your wedding. You can even set up automatic transfers to your savings share to make saving money convenient. While saving on wedding expenses is important, working toward saving a particular amount before you begin planning can also help you determine your budget.
Consider Your Expenses
According to the site Cost of Wedding, most couples spend less than $10,000 on their weddings. That number doesn't account for the honeymoon. With a little determination and smart planning, you can get your costs down to this amount or cut costs further so you can allocate more money to starting a life with your loved one.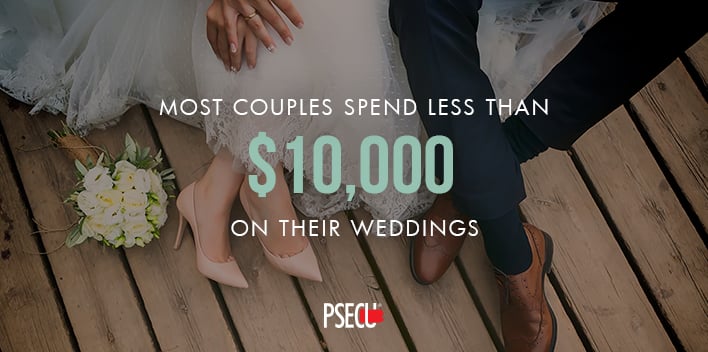 Consider each expense at your wedding and what it's worth to you and your spouse-to-be. This will put into perspective what you're willing to splurge on and what isn't that important to you. For example, you may find that wearing an expensive couture gown is more important to you than having a professional DJ at your reception. If so, you can cut costs by having a friend manage the music and put the money you would have spent on a DJ toward your dress.
Save the Dates and Invitations
Create them yourself: The most affordable option is to design and print your save the dates and invitations yourself and use a local printer, such as a college print shop, to produce them for you. With so many design options out there, it's easier than ever to create your own design. Websites such as Canva offer a great set of tools. Just be sure to do a print test first to confirm your design looks the way you want before placing your full order.
Research mailing options: Check with your local post office to learn about the most inexpensive mailing options for your invitations and save the dates. Some envelope sizes increase postage costs. Save money on save the dates by sending them as postcards.
Browse premade cards online: If you'd rather not go through the trouble of designing a save the date or invitation yourself, you can check out websites such as Vistaprint, Amazon or Etsy. If you have tech-savvy friends and relatives, send them to a custom URL to RSVP instead of printed response cards.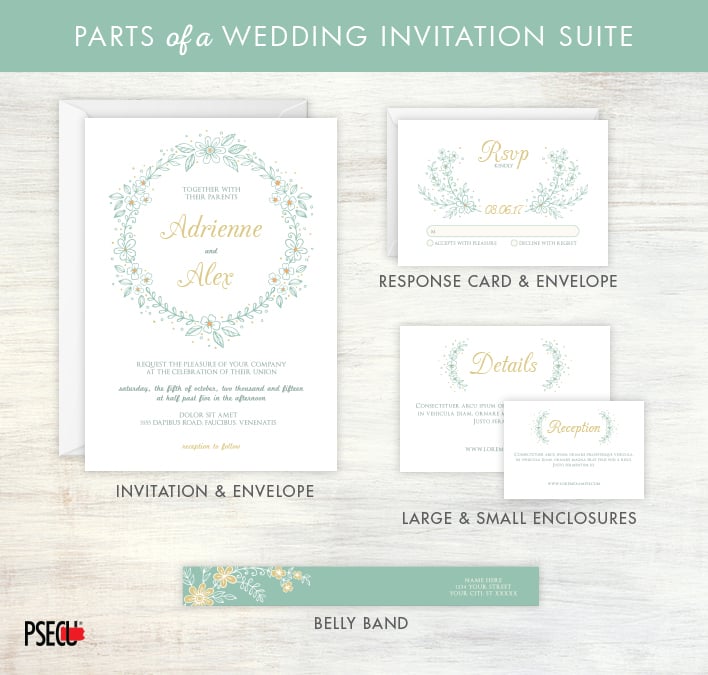 Attire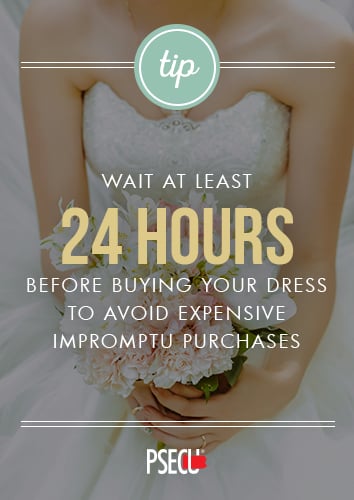 Rent what you wear: It's common to rent tuxedos and suits, but don't forget that you can rent your dress, too. This way, you get to look like a million bucks without spending a million bucks. A tip on renting tuxedos and suits: Renting as a group may get you a discount, so be sure the groomsmen shop together!
Shop for sales: For many brides, a wedding dress has sentimental value and renting may not be a favorable option. That's okay – you can still get a dress that's yours alone and doesn't burn a hole in your budget. Online shops usually have a great collection of dresses ranging from $100 to $500. Before making a purchase, check the shop's return policy to make sure they allow free returns in case the dress isn't what it looked like online.
You can also check out discount racks in local stores – many have sales to get rid of last year's designs. Always ask if they can offer a better price, especially if you found the same dress at two different locations. No matter where you buy your dress, don't feel pressured to buy your accessories at the same store. You may be able to get a better price for the same item somewhere else or online.
If you don't mind buying a used dress, consider vintage or thrift shops that sell wedding dresses at a much lower cost. Most of the time, these are in great condition because they've only been worn once.
Sell your dress after the wedding: this option isn't for everyone, but if you want to be practical and frugal, this could be the way to go. You're probably never going to wear your wedding dress again, so you might as well recover a percentage of the cost back after the wedding. This way, you can have your cake and eat it, too!
Venues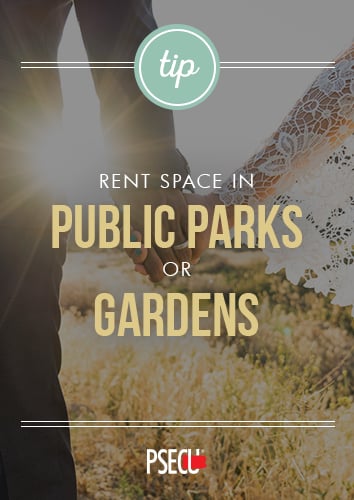 Ask about packaged deals: The cost of a venue may take the bulk of your wedding budget. Shop around for the best price and ask about packaged deals. You may find certain venues offer perks like speaker systems, discounted catering services, or a free cake, which may make the extra cost worth it in the long run.
Opt for a family-owned location: This could mean a family member's backyard or a local privately-owned restaurant with a large banquet hall. Churches often have reception halls that you can reserve for free or relatively inexpensive costs, as well. If it's not as pretty as other venues, some of the money saved can go to decorations.
Explore public spaces: You don't need to have your wedding at a fancy banquet hall. Look around you! There are tons of open spaces well suited for a ceremony and reception. These include university campuses, parks and public gardens. Public parks and gardens rent space for weddings and don't cost as much as a typical banquet hall. Whatever venue you choose, be sure to visit it during the day of the week and time you plan to have your ceremony and reception to check lighting, traffic, etc.
Food and Drinks
Host the reception at a restaurant: If you're looking to treat your friends and family to a special dinner, you might consider this option. This is a cost-effective way to manage both your venue and your catering for the wedding. If you guarantee a certain number of guests, restaurants will often lower the price of rent. It saves you the hassle of having to arrange décor, furniture and lighting.
Think beyond traditional catering: Consider a range of food options that are not only inventive, but also memorable for your guests. You could bring in a local food truck for your outside reception, offer food stations, or ask a friend or family member to cater. If you cover the cost of ingredients, they may be willing to do the work as a wedding gift to you and your soon-to-be spouse.
Skip the sit-down dinner: This can be a bit unconventional, but just because sit-down dinners are the norm, it doesn't mean you have to adhere. Instead of a three-course meal, you could serve your guests hors d'oeuvres and cake after the ceremony.
Cut the open bar: One of the most significant ways to cut down costs is not having an open bar. Instead, offer a coffee bar, soda or other drinks. If you want to provide your guests with drinks, check with your venue about bringing in beverages purchased outside or ask vendors about bulk purchase options.
Cakes
Get help from family and friends: We all have a friend or family member who's big into baking. Here's where their skills will come in handy! Once again, you can pay for ingredients and ask if your baker friend would be willing to craft you the cake as a wedding gift. Cupcakes are often less expensive and easier to serve to guests. You can always get a tiny topper cake made for a traditional "cut the cake" photo.
Check out neighborhood grocery stores and local bakeries: Grocery stores offer wedding cake options that are usually very reasonably priced, but still fancy. You could also ask if they would give you a discount on the cake if you include their logo on your program or place their business cards on the dessert table.
Skip cake altogether: You can also take an unconventional route. Instead of having an expensive fondant cake, you can serve a different dessert. Cookies, pies and candy bars are fun and cost much less!
Décor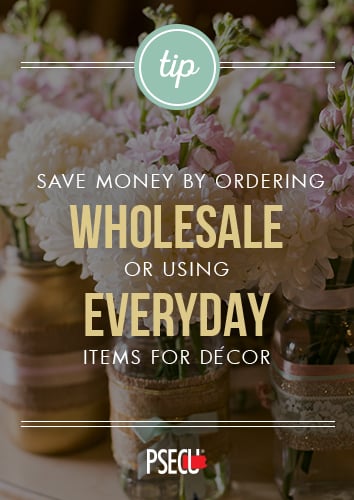 Browse dollar stores: As the name suggests, dollar stores are great places to find vases, artificial flowers, candles and metallic confetti – all for just a few dollars.
Create your own flower arrangements: Want to channel some of your inner creativity? Now's a good time to start! YouTube and Pinterest are brimming with DIY information and can help you put together some of the most elegant arrangements. These will only cost a few dollars, and you'll get to show off your talent. Ask your friends and family to pitch in if you're not confident about doing this yourself.
Borrow or purchase used decorations: Ask around to see if anyone has décor from previous events or weddings they wouldn't mind letting you borrow. Does your friend have a tree they're cutting down? Ask if she would be willing to cut the trunk into slabs for your wedding. You can purchase an inexpensive wood burning tool and write quotes, table numbers or hearts with you and your loved one's initials on them.
Decoration packages are also economical and one of the best ways to go if you want to have a frugal wedding. Websites such as Craigslist and eBay are good places to find what you're looking for.
Reuse home décor: Use what you already have or consider buying décor that you would want to use after the wedding in your home.
Music
Set up your own system: You don't have to have a big-name DJ or band to get the party started! A curated playlist will work just fine. All you need is a portable MP3 player or your phone and speakers. You can have a collection of songs that are special to both of you or you can ask a friend or family member to be the DJ.
Hire college students: There are some great college bands out there with a lot of potential. You could also check out new DJs and musicians. Check out some of their gigs and see if they can get the job done.
Stick to the basics: Some DJ companies make their money by selling extras. Save money by sticking to the basics and saying no to special effects such as expensive lights, photo booths and smoke machines.
Photography
Hire recent graduates or newer photographers trying to break into the field: These are smart options if you're looking for reasonably priced photography talent. You can reach out to them via local college or community sites. Check out their portfolios and see if there are any that would be a good match. Or ask around about up-and-coming photography talent. Just make sure you trust the photographer to get the photos you want. Your wedding only happens once and you don't want it to be remembered through blurry photographs.
Get a packaged deal: Ask for a packaged deal that will capture the special moments leading up to and during your wedding day, such as engagement pictures, getting ready photos, the wedding ceremony, the reception and the after party. Also make sure you're able to get a print release and all the photos on a CD or thumb drive so you can print them yourself instead of having to purchase the prints through the photographer. If you also want a video of your special day, many photographers work with videographers and sell video and photo packages.
Ask family and friends if they can help: Family and friends are usually more than willing to help. Considering how social media-savvy we've become today, you can trust at least one of your friends or relatives to snap Instagram-worthy pictures for you! Also, ask your friends to email you their photos or mark them with a specific hashtag on social media. This is a great way to get photos fast, as many photographers take months to edit and send you their work.
Jewelry
Use family heirlooms: Family heirlooms, such as your grandmother's earrings, could save you from splurging on new jewelry. Don't forget to borrow a piece of jewelry for your wedding day – a great way to get your "something borrowed."
Shop online: Once again, online shopping comes to the rescue! There are dozens of online discount shops that offer rings in various metals such as rose gold, white gold and yellow gold, and countless stones such as diamonds and cubic zirconia. Don't worry about getting the exact size, as it's usually well worth it to get a good deal and resize the piece later.
Honeymoon
Stay local: A honeymoon is a good time to enjoy each other's company and unwind after all that wedding prep. But it's not necessary to travel halfway across the world to do it. You could always opt to stay closer to home and instead invest in a nice hotel suite. It will be less stressful than hopping on a flight. Staying local also gives you the opportunity to spend a little more time with relatives you don't see very often.
Get creative with your fund: If going on a honeymoon is a must, then this is a good time to make use of your wedding registry. You could skip registering for gifts and instead use an online honeymoon registry to ask your guests to make a contribution. This way, you can afford your dream trip to Paris or Venice without having to spend a penny. The "Dollar Dance" is also a popular wedding tradition in Pennsylvania, where guests choose how much to pay for a dance with the bride and groom at the reception.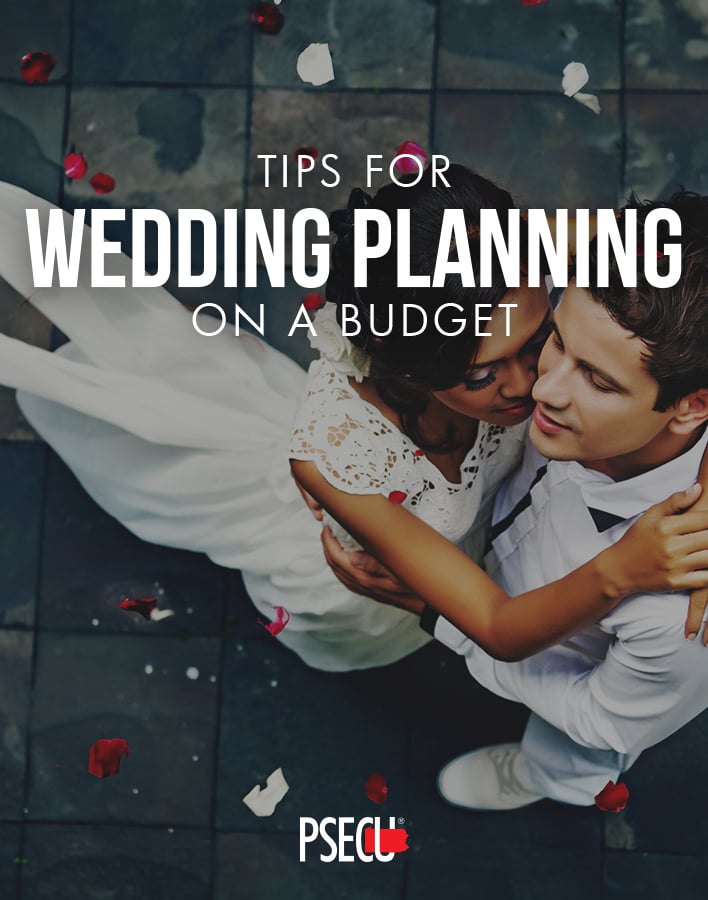 Ways to Cut Costs
Hopefully you've come away with some helpful ideas on cutting down on what you need to spend for a memorable, world-class wedding. Here are a few more ways to cut costs:
Trim your guest list: This is an obvious way to reduce costs, but is often overlooked by couples in the excitement of planning a grand wedding. Sit down with your fiancée and have an honest conversation about who you want present on your big day. Only include those who are most important to you both, such as immediate family and close friends and relatives. No need to invite your coworkers or yoga classmates! If you feel pressured to invite more people, consider making the wedding ceremony open to everyone but having a closed, invite-only reception.
Do your research: Be sure to find out about all possible caterers, venues and other vendors before you make a decision. Start as early as possible if you can and be in-the-know about all of the discounts and offers available with different vendors. Try and book everything well in advance to avoid price hikes and make sure all the vendors you want are available. Keep in mind, venues in cities are usually more expensive than those in rural areas.
Ask for discounts: Vendors may give you a discount, especially if you purchase several services from them. You can also offer to include their logo on your program or wedding website in exchange for a small discount.
Encourage guests to rent a home: If you have a lot of family and friends coming from out of town, it may be a good idea to rent a home instead of reserving multiple hotel rooms. You can save even more by renting a home that has enough space to host your rehearsal dinner. If it's nice out, consider hosting a casual cookout in place of a sit-down dinner.
Skip the wedding planner: Wedding planners can take care of all your big hassles, but if you're concerned about costs, then it's best to skip the wedding planner. If you're keen on having a professional on board, though, you can hire them for one session instead of the whole event.
Buy and sell used items online: Trim costs by purchasing décor on secondhand sites. After the wedding, if you're willing to part with mementos, décor, or your dress, you can re-sell those items to cover a good portion of your expenditures.
Make the most of your purchases: Use a cash rewards credit card for all of your planned and incidental wedding purchases to earn back some of the money you're spending. The PSECU Founder's Card offers 1.5% cash rewards for every purchase, or 2% of you have a checking account and qualifying monthly Direct Deposits totaling at least $500.*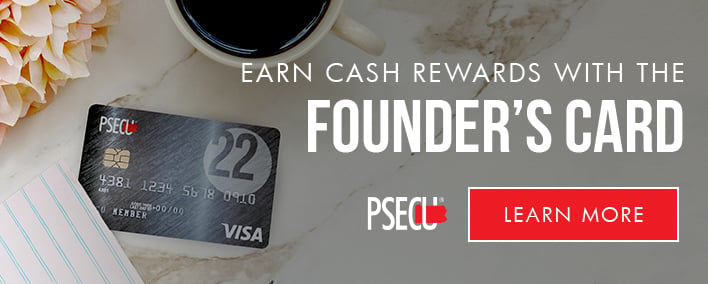 A wedding is a special occasion, but it doesn't need to be expensive. If you do happen to go over your budget, we have a solution for that, too: You can always take a personal loan or Signature Loan of up to $20,000 for your wedding needs. Check out our WalletWorks page for more money management tips.
Good luck and congratulations!
*You can earn 1.5% cash rewards on purchases. You can earn 2% cash rewards on purchases if you maintain a PSECU checking account and qualifying monthly direct deposit(s) of at least $500. See the Visa® Founder's Card and Visa® Alumni Rewards Card Rewards Program Terms and Conditions for full details.
The content provided in this publication is for informational purposes only. Nothing stated is to be construed as financial or legal advice. Some products not offered by PSECU. PSECU does not endorse any third parties, including, but not limited to, referenced individuals, companies, organizations, products, blogs, or websites. PSECU does not warrant any advice provided by third parties. PSECU does not guarantee the accuracy or completeness of the information provided by third parties. PSECU recommends that you seek the advice of a qualified financial, tax, legal, or other professional if you have questions.