For many of us, college is the first time we're truly "on our own" – making our own schedules, doing laundry, and managing our own money. It may seem intimidating, but it doesn't have to be. We've highlighted some of the top tips for each year.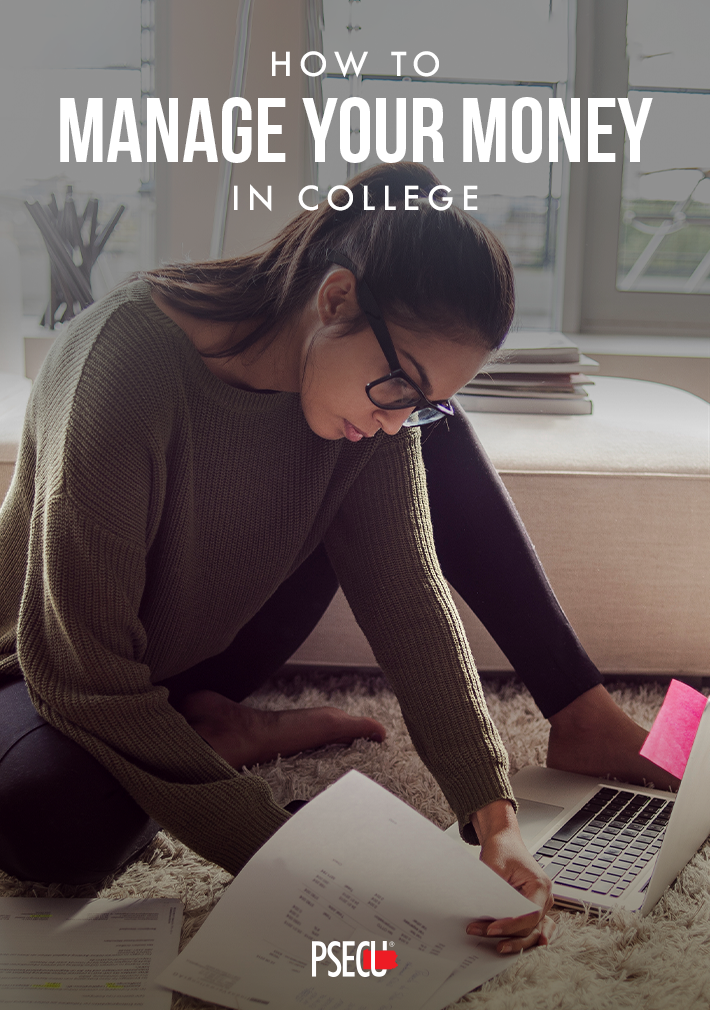 Before Freshman Year
Have an honest conversation with your parents
If your parents have been footing the bill for your living expenses up until now, it's time to have an honest conversation with them. Will they keep you on their family cell phone plan? Will they help you cover the costs of toiletries and other necessary items? Talking about money this bluntly may feel awkward, but it's important for you to all be on the same page so you can plan accordingly.
Freshman Year
Figure out your student loans
While four years may seem like a long time, graduation (and your first student loan bill) will arrive sooner than you think. Being knowledgeable about your loans now can help reduce the amount you have to pay back later. For instance, some loans accrue interest while you're in school. While you're often not obligated to, you may want to consider paying off the accrued interest each quarter so that you pay back less in the long run.
Monitor your spending
Take time each week to recap how much you've spent and what you've spent it on. Look for trends and ways to cut costs. Identifying ways that you waste money and correcting it now can put you on the right track for the rest of college, as well. For instance, if coffee is your weakness, can you take it to go from your school's cafeteria instead of buying it somewhere else?
Sophomore Year
Look for a part-time job
Some students aren't comfortable working while they're getting adjusted to college during their freshman year. If you were in that boat and haven't started working, consider starting now. Set up direct deposit for your paycheck and have some of your earnings automatically sent into a separate savings account for emergencies.
Start saving for upperclassmen expenses
Many colleges offer special opportunities for their juniors and seniors like externships or study abroad. While these are great to take advantage of, they may carry a hefty price tag. Do your research now, figure out what the costs will be, and start saving.
Junior Year
Be a responsible renter
If you're moving off-campus, start the year off strong by getting your finances well organized. Review your lease up front and know whether your rent is all-inclusive or if you have to pay separate utility bills. Knowing this information will help you know what to budget for. Make sure you're paying your rent on time and fulfilling any requirements when you're ready to move out, such as giving appropriate notice, to avoid fees.
Research credit cards before signing up
Many companies won't offer you a credit card without a cosigner until you're 21. This rule was put in place partially to protect young adults from being bombarded with credit cards that they're not ready to accept responsibility for. Once you hit this age, however, credit cards may be more readily available to you. Be cautious in choosing one. Check details like Annual Percentage Rates, annual fees, and rewards. Once you get a credit card, make sure you're only making purchases you can afford to pay off, preferably in full before interest accrues.
Senior Year
Learn how to check your credit report (if you haven't already)
Hopefully someone has caught you before your senior year to explain credit, your credit report and scores, and the role they can play in your life. (If not, check out the resources we have available on our WalletWorks page to learn more.) Your credit impacts more than you probably realize – ranging from your ability to get a job, your car insurance rate, and your approval (or denial) for a loan. A good first step for preparing for the financial "real world" after graduation is making sure the information on your credit report is accurate.
Know which benefits will go away after graduation
There are some student benefits that you may lose access to after you graduate. Know what they are and how they'll impact your finances. For instance, will you lose a student discount on car insurance? Will your bank or credit union start charging for your formerly free "student" checking account? PSECU's accounts don't change after graduation, but some will, so be sure to double check.
Find more money management tips and resources on our WalletWorks page.
The content provided in this publication is for informational purposes only. Nothing stated is to be construed as financial or legal advice. Some products not offered by PSECU. PSECU does not endorse any third parties, including, but not limited to, referenced individuals, companies, organizations, products, blogs, or websites. PSECU does not warrant any advice provided by third parties. PSECU does not guarantee the accuracy or completeness of the information provided by third parties. PSECU recommends that you seek the advice of a qualified financial, tax, legal, or other professional if you have questions.