Between fuel, insurance, and monthly payments, owning a vehicle can get expensive. Fortunately, you can reduce your costs when you take a more hands-on approach to car maintenance.
So, how can you reduce your trips to the mechanic and keep your car in good condition? Here are a few tips that will save you money, regardless of whether your car is new or used.
Learn How to Perform Simple Maintenance Tasks Yourself
If you do your research beforehand, you may be able to perform a few car maintenance tasks yourself.
Some of the simplest maintenance tasks you can perform at home include changing your oil and air filters. Oil is essential to your car's operation and changing it regularly can prevent accumulated contaminants from creating friction in the engine. When you're changing your oil, consider replacing the air filters as well.
By learning how to perform just these two maintenance tasks yourself, you can save at least one to two trips to the mechanic annually. Of course, you'll want to check the owner's manual before you start.
Check the Owner's Manual for Maintenance Schedules
Your owner's manual will give you a straightforward schedule for different car maintenance tasks, generally going by a system of months or miles. For example, an owner's manual might state that you should check the coolant every 12 months or 12,000 miles – whichever comes first.
When you take your car in for maintenance, it's crucial to keep the information found in your owner's manual top of mind. Your service provider may recommend services outside of those recommended by your vehicle's manufacturer.
You may want to get a second opinion before accepting additional services that your manufacturer doesn't list in your owner's manual.
Manuals should include plans for when to check and maintain the following components:
Engine oil
Coolant levels
Transmission fluid
Air filters
Engine belts
Batteries
Headlights
If you don't currently have an owner's manual, you may be able to find the information for your car's model and year online or by contacting a dealership. Having an authentic owner's manual for your vehicle will be useful for scheduling specific services in the future.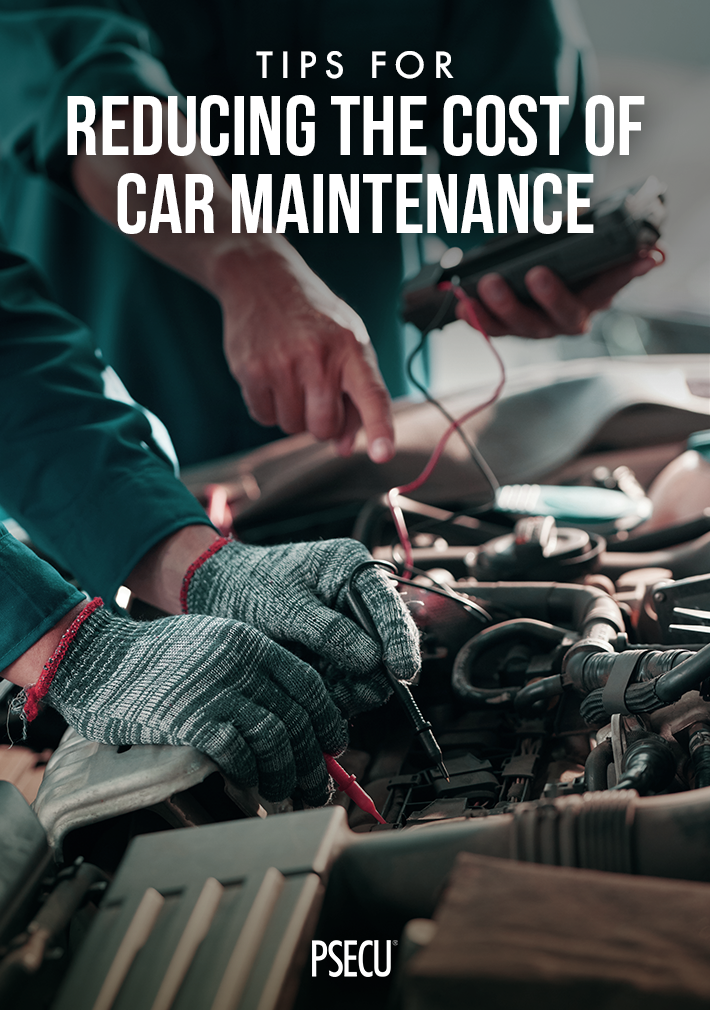 Search Online for Coupons from Popular Chains
No matter how much maintenance you can perform yourself, there will still be times when you need to have your car looked at by a professional. Popular auto shop chains tend to have online coupons that you can use to save money on car maintenance. Many auto shops have sales around Memorial Day, Labor Day, and New Year's.
Of course, it's important to research the chain that you choose for maintenance. Just because you may have found a coupon doesn't mean there aren't other auto shops with great deals and excellent service at a lower price. You'll also want to consider which chains have the most experience working with your make and model of vehicle.
Take Advantage of Dealer Perks
If you bought your car from a dealership, your purchase may have included perks for saving on maintenance done by their service department. For instance, you may have oil changes included for the first two years or a set number of miles. Additionally, some dealers may provide a loaner vehicle at no cost while your car is in the shop. Even if the base cost for maintenance is higher, it could end up saving you more in the end if you would otherwise need to pay for a rental.
To maximize your savings, be sure you know what you're entitled to and also inquire about any price matching the dealership may offer if you find the service advertised for a lower price elsewhere.
Seek Out a Second Opinion if Costs Are Too High
If you're not knowledgeable in auto parts and maintenance, it can be hard to tell what recommendations you should follow and what you can put on hold when you take your car in for work. To help with this, you can reference your manufacturer's maintenance schedule to give you some general guidance on when certain parts should be repaired or replaced.
If you're unsure about the services being recommended by your mechanic, you may want to visit another auto shop for a second opinion. You may find that other shops can maintain your car at a much lower cost or that the services suggested by a previous mechanic aren't necessary. When you're in doubt about a recommendation, a second opinion can save you money.
Know When It's Time to Say Goodbye
Vehicle maintenance is an important part of car ownership, but there will come a point when the work your car needs exceeds its value.
If you find yourself in this position, we can help get you in a car that meets your needs and budget. Our auto loans are available for new or used vehicles and offer flexible terms and competitive rates.
The content provided in this publication is for informational purposes only. Nothing stated is to be construed as financial or legal advice. Some products not offered by PSECU. PSECU does not endorse any third parties, including, but not limited to, referenced individuals, companies, organizations, products, blogs, or websites. PSECU does not warrant any advice provided by third parties. PSECU does not guarantee the accuracy or completeness of the information provided by third parties. PSECU recommends that you seek the advice of a qualified financial, tax, legal, or other professional if you have questions.